The AIBT is working in partnership with the Bristol Industrial Archaeological Society (BIAS), the Clifton and Hotwells Improvement Society (CHIS), and the Hotwells and Cliftonwood Society on the restoration of Brunel's swing bridge.
<p>Brunel's swing bridge<p>
The bridge is a very important historic structure, which is located underneath the Plimsoll Bridge at the entrance to Bristol 's floating harbour. It is disused and in a very poor condition, and in danger of complete collapse. The bridge is listed Grade ll* and is on Historic England's Register of Structures at Risk.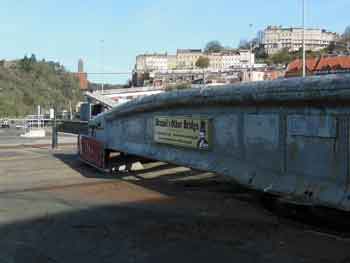 It was Brunel's first large wrought iron opening bridge. It is far older than the Suspension Bridge, and is Bristol's only abandoned Brunel structure. Volunteers have been working to halt the decay for the past three years. This work has been supported by grants from Historic England, BIAS, CHIS, and the Bristol City Council's Neighbourhood Partnership.
The bridge rotates on four fixed wheels running on a solid ring under the bridge. It is turned by twin hydraulic rams located in pits, which are connected to a turning ring under the bridge by a substantial wire cable. The hydraulic rams were fed from a pressure water system located in Underfall Yard. Prior to conversion to hydraulic operation, the bridge was turned by a hand operated crank similar to that used on old railway turntables.
For further information, see http://www.brunelsotherbridge.org.uk/