Wonderful News
Recent media coverage about the Wonderful Organisation is published below. To join our mailing list, please use the short form in the footer.
Daily Mail, 2nd December 2017
Reporting on the fees accumilated by fundraising pages set up in the wake of disater events such as Grenfel Tower. One fundraiser named Karolina raised some £400,000 but was shocked to find associated fees in the region of £25,000. This comes after MP Mary Robinson debated fundraising sites and their associated fees at Westminster Hall on the 28th November. *Image credit: [ChiralJohn](https://www.flickr.com/photos/69057297@N04/)*
Read More
---
Charity Digital News, 30th November 2017
Charity Digital News reports on the concerns mounting over the transparency of online fundraising fees for those wishing to donate to good causes. "...With large sums being donated and handled, transparency [around fundraising fees] is therefore a fundamental issue facing the sector. The way forward is to ensure that, with guidance from the Fundraising Regulator and Charity Commission, online fundraising platforms are transparent and clear from the outset...." - Mary Robinson MP
Today I led a Westminster Hall debate on charitable fundraising websites, raising transparency and congratulating wonderful fundraisers on #givingtuesday. You can watch the debate here: https://t.co/8OSsFsFtGB

— Mary Robinson MP (@MaryRobinson01) November 28, 2017
Read More
---
About Manchester, 30th November 2017
The Manchester-based news outlet provides further coverage of the mounting pressure for fundraising platforms to be more transparent about their fees. Mary Robinson MP recently debated the issue at Westminster Hall.
"There are over 160,000 registered charities in England and Wales and thanks to the generosity of the British public last year £2.4 billion was raised through websites, social media and apps alone. However the ability to raise funds generally comes at a cost. The landscape for both charities and giving sites is confusing and a recent survey by Wonderful.org revealed that almost 80% of people who use the largest 'run for-profit' platform are unaware that it is in fact a for-profit business."
Read More
---
Fundraising Regulator, 29th November 2017
The UK's regulatory body for online fundraising platforms publishes a transcript of the Westminster Hall debate regarding charitable fundraising sites and their associated charges.
Read More
---
About Manchester, 3rd October 2017
Highlights on the success of Wonderful's first Wonderful Week, including some of the many fundraisers who pitched in for a good cause. Wonderful's Head Honcho, Kieron James said: "We're so grateful of all the support and hard work from everybody who's got behind The Wonderful Week, and the efforts of every single fundraiser".
Read More
---
UK Fundraising, 3rd October 2017
More coverage on the recent success of the first ever Wonderful Week from the fundraising news source, UK Fundraising. Former professional footballer Phil Neville covered a combined 100 miles with his family in support of one of their favourite charities. Other fundraisers and their creative fundraising challenges are described in celebration of the efforts made for good causes last month.
Read More
---
Charity Digital News, 27th September 2017
Following the success of the world's first Wonderful Week of fundraising, Charity Digital News reports on some of the star fundraisers who decided to make an impact for charities close to their hearts in September 2017. During the Wonderful Week, fundraisers completed a myriad of activities from edgy London spin classes, to long walks around Paris, all to raise cash for charity.
Read More
---
I Love MCR, 4th September 2017
Thoroughbred Manchester news source I Love MCR reports on Simon Liddiard and Dennis Lloyd's Manchester to Liverpool charity bike ride, which forms part of the Wonderful Week of fee-free fundraising. The two locals are raising money for a fantastic charity project, The Veterans Garage. "The Garage will ultimately provide a meeting place for car, motorcycle and scooter enthusiasts, complimented by a classic car and motorcycle restoration facility which is run by and for north west veterans to fund an on-site post-traumatic stress disorder support centre. We rely on the generosity of the public to help get our project off the ground, so to be involved in The Wonderful Week really is wonderful."
Read More
---
Heart Radio, 1st September 2017
Take a listen to what footballing legend Phil Neville had to say about getting his family involved in a 100 mile challenge for The Good Life Orphanage. Phil tells the nation how the Wonderful Week makes it easy for the whole family to raise money for good causes. Wonderful is the only sight to pass 100 per cent of donations over to the chosen charity!
---
BikeBiz, 31st August 2017
Bike trade magazine write about Olympic cyclist Katie Archibald's involvement in the Wonderful Week. Katie, along with other members of her pro cycling team will be covering a combined 1500 miles in just 9 days as part of a challenge to raise money for the The Christie Hospital in Manchester...
Read More
---
About Manchester, 31st August 2017
It's a vibrant city, and it's host to some wonderful charitable activities! About Manchester report on the city's Wonderful.org fundraising platform and its partnership with Katie Archibald and the Elite womens cycling team WNT.
Read More
---
Business Cloud, 31st August 2017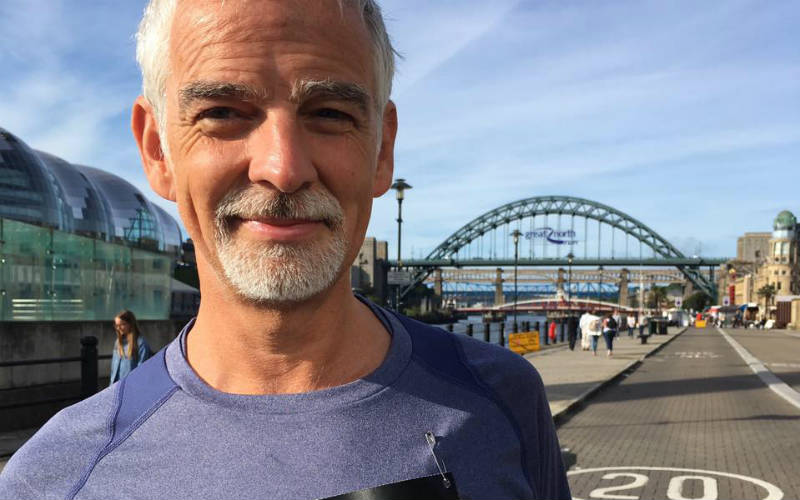 Grab your headphones and hear from the man himself. Founder of Wonderful.org and regular fundraiser Kieron James explains why he was so determined to offer something new to the fundraising sector, and how so many fundraisers are unaware of the cuts that are taken from donations when using other platforms.
Read More
---
Team WNT Pro Cycling, 31st August 2017
The Elite pro cycling team WNT are set to ride an enormous 1500 miles thoughout the Wonderful Week form the 2nd to the 10th of September. The team, which includes Hannah Walker and Olympic champion Katie Archibald have had an excellent season racing and want to raise funds for The Christie Hospital. Read about their involvment on the official Team WNT blog.
Read More
---
The Business Desk, 30th August 2017
"I first set up Wonderful after first hand heartbreak. I took part in an event some time ago, raised a lot of money for charity, but it wasn't until after that I realised that a proportion of the money I had raised had not reached the charity, and that frustrated me enormously. These are causes that close to people's hearts and it does frustrate people." - Read the full interview with Wonderful's founder Kieron James and find out why he is so driven to offer a a new option for online fundraisers.
Read More
---
Lovin Manchester, 30th August 2017
Reporting on two superstar fundraisers taking part in the upcoming Wonderful Week, Lovin Manchester spreads the word about Simon Liddiard and Dennis Lloyd's Mobike adventure. The two Manchester locals will be riding from their home city all the way to Liverpool (and back!), totaling over 60 miles. Every penny of their donations will go to Veteran's Garage and the cycling duo will be using Mobikes to complete the challenge, which will be no easy task...
Read More
---
UK Fundraising, 18th August 2017
The well known third sector website UK Fundraising reports on the upcoming Wonderful Week, which anybody can take part in. For those who want to give something back, the wonderful week is the perfect time to set a fundraising challenge, and raise some money for a charity close to your heart.
Read More
---
Mancunian Matters, 6th August 2017
A certain football legend is taking a real challenge during our Wonderful Week in September. The Greater Manchester online news source are spreading the word about Phil Neville's getting involved with his whole family. They've pledged to cover 100 miles between them during the week.
Read More
---
Charity Digital News, 31st July 2017
More on the Wonderful Week. Third sector news site Charity Digital News write about football star Phil Neville and his family taking the plunge with our Wonderful Week to raise money for The Good Life Orphanage.
Read More
---
talkRADIO, 22nd April 2017
Wonderful Chief Exec, Kieron James, chats to Penny Smith on the eve of the London Marathon about how charity fundraisers could generate even more cash for the causes they support by avoiding the high charges of some fundraising platforms.
---
iNews, 17th March 2017
"Manchester businessman and avid fundraiser Kieron James became frustrated that not all of money raised for specific charities actually reaches them. James launched The Wonderful Organisation to give fundraisers an alternative to platforms that charge charities, make deductions to cover costs or generate profit." Louise Rhind-Tutt explains why Manchester might be the most charitable city in the UK.
Read More
---
BBC Radio Manchester, 19th December 2016
Chief Exec, Kieron James, discusses fundraising platforms with Andy Crane on BBC Radio Manchester. First broadcast on 19 December, 2016.
---
BBC North West Today, 19th December 2016
Chief Exec, Kieron James, chats to Roger Johnson about the benefits of fee-free fundraising on North West Today. First broadcast live on 19 December, 2016.
---
Lancashire Evening Post, 6th December 2016
A new fund-raising platform has launched with its first major event, with money going directly to charities such as Preston's Deafway charity, reports Natalie Walker.
Read More
---
I Love Manchester, 10th November 2016
Yvonne Goldsmith-Rybka catches up with Kieron James, the man behind a new not-for-profit organisation which enables people to raise money for their favourite charities - and doesn't charge a penny.
Read More
---
BBC Radio Lancashire, 4th November 2016
On the Friday before the marathon, Wonderful Organisation's Chief Exec, Kieron James, talks to John Barnes about the benefits of fee-free fundraising. First broadcast live from New York on 4th November, 2016.
---
Charity Digital News, 24th October 2016
Austin Clark writes about the launch of the Wonderful Organisation's fee-free fundraising platform in the website's 'emerging tech for good', 'new product and technology' and 'online tools' categories.
Read More
---
UK Fundraising, 19th October 2016
Melanie May covers the unveiling of the Wonderful Organisation's website in the sector's popular 'UK Fundraising' website.
Read More
---
Animation
---
Media Enquiries
Rule 5
2nd floor, The Landing
Blue Tower
MediaCityUK
Manchester
M50 2ST
Tel: 0161 686 5727
Email: alexandra@rule-5.co.uk
See Also
For further information about the Wonderful Organisation model, please take a look at the following pages: